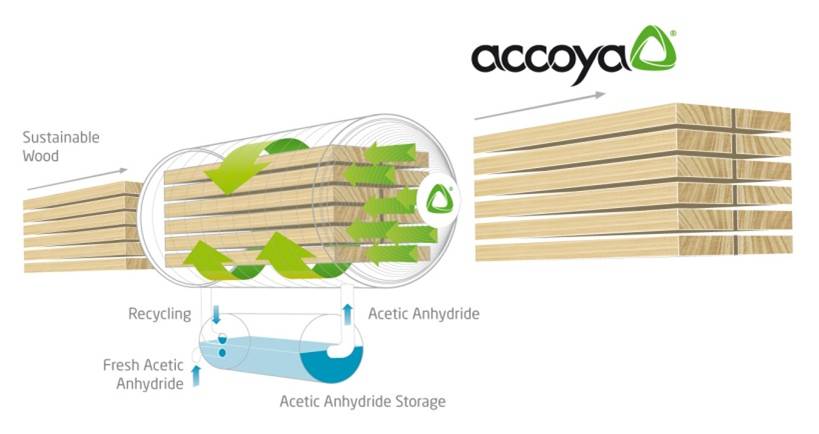 Accoya® is a special variety of lumber with exceptional performance making it ideal for outdoor applications.
The treatment

It consists in a pine timber from New Zealand on which has been made a particular treatment named Acetylation: the acetic acid, already present in the nature of the wood itself in form of molecules, is introduced in the timber during the treatment and increasing the number of its molecules forming a strong bond.
The features

The output is a high-performance timber, guaranteed for 50 years against rot, 100% recyclable, highly resistant to UV rays, non-toxic and completely eco-friendly (pine is the tree who grows faster once re-planted).
Accoya® wood is the perfect substrate for windows and doors as its naturally insulating, class 1 Durable and dimensionally stable so to prevent doors becoming difficult to open and close in bad weather. Accoya® wood is FSC® certified and C2C Gold sustainability certified. It can be opaque coated or, for those wishing to enjoy the natural look of wood, transparent coated.
Wood/aluminum, the trend of the moment

Do you want to benefit of Accoya® wood without quitting the external aluminum finish? Fratelli Bergamaschi has got the best solution for you to save your money!
We can replace the external aluminum profile (useless if you employ Accoya® wood) with a metallic paint of aluminum polymer, maintaining the aluminum effect of a wood/aluminum profile window. Your windows will get 10 years more of warranty, which can be extended to 15 years if you use shutters.

To visit the official Accoya site, click on the logo below